Task
Tasks are part of the custom or automated workflow in Inforius.
The Inforius Task module contains the following functionality: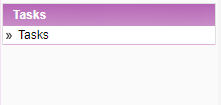 Tasks
Tasks can be displayed automatically to users depending on the settings immediately after login, but can also be access manually at any time through menu. In addition to manually created tasks, Inforius also create automated tasks based on task configuration for the given process.