Statistics
All statistical evaluations of the Inforius Statistics module are filled via the daily updated Data Warehouse Cubes. For the current day analysis cockpit section shows the actual information directly for main database. For detail analysis different sections made to show management overview of the system.
The number of reports are growing permanently due to the flexible matrix structure and currently stands at around 200.
The Inforius Statistics module contains the following functionality: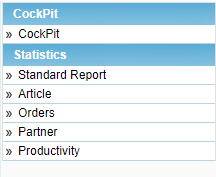 Article
Based on article data, multiple reports display statistics of sales based on different aproaches.
Orders
Based on order data multiple reports display the revenue and sales depends on selected criteria.