Payment
Inforius has a connection to the most common payment systems and is constantly being expanded.
The Inforius payment module contains the following functionality: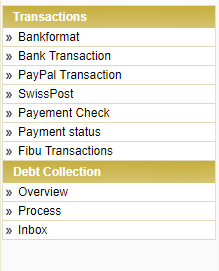 Bank Transaction
Incoming bank payments are automatically reconciled via the bank transaction module.

PayPal Transaction
Inforius accesses the PayPal account permanently and matches it with existing orders. All identified transactions are automatically posted.

Payment Check
Bulk payments, amount mismatch / amount not matching transactions can be taken care using this module.


Debit Collection Overview
Uncollected invoices can be sent to the affiliated collection agency via the collection module. The debt collection overview allows you to search for debt collection cases using different filters.