Services portfolio
Inooga Solutions offers all phases of the software development life cycle to develop individual projects and to integrate products and solutions.
Consultancy
Inooga Solutions provide consultancy in all steps of the project implementation. Consultancy starts with the business requirements analysis and accompanies the project in the succeeding phases of the software life cycle.
Design
The most important element for the successful implementation of a project is a detailed and well documented design. We distinguish between the functional and the technical design.
Coding
Developing customized solutions using the latest technologies and integrate additional products and solutions based on your requirements.
Maintenance
Supporting clients even after the successful launch of the application, if requested, also at our customer's premises.
Project-Management
Having a long successful history in international project management. We are using the web enabled project management software "fx-project", so that our customers are able to see the status of their project at any given time and from any location.
Quality Management
Being an ISO 9001:2015 certified software company we are following strictly ISO 9001 quality standards. We are using the quality management software "WorkHorse" to support our quality management processes.
SAP ERP
SAP ERP is enterprise resource planning software made by the German company SAP AG. SAP ERP incorporates the key business functions of an organization. ECC (ERP Central Component) is software version, released as ECC 5.0 in 2004.
SAP ERP is the name of the applications in the SAP Business Suite (and SAP Business All-In-One software). It contains the following:
SAP Financial Accounting (FI)
SAP Controlling (CO)
SAP Sales and Distribution (SD)
SAP Production Planning (PP)
SAP Materials Management (MM)
SAP Quality Management (QM)
SAP Human Capital Management (HCM)
SAP Business One Implementation
IBC proven implementation methodology results in projects that meet expectations, are completed on-time, on-budget and deliver the promised return-on-investment. Our highly qualified team works in partnership with you to develop and execute a project plan that efficiently moves the implementation through the following phases: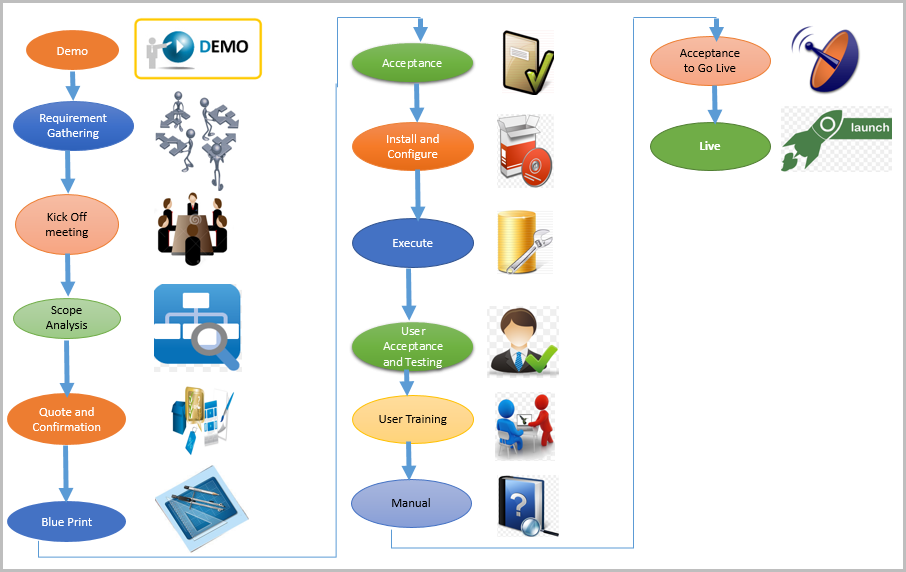 Demo :
Presenting the demo to the customer
Requirement Gathering :
Understand the customer business need and requirements.
Kick Off Meeting with Customer :
Present implementation methodology, review resources available and create Skills Matrix to Leverage Team Members Experience.
Scope Analysis :
Get customers business process needs in details. Divide into subjects. Review Critical Success Factors in each section.Identify any limitations in the out-of-box solution and discuss work around. Document all major business process. Create a list of limitations or opportunities of the design. Work Around possibilities – UDF's/Formatted Search/Queries/SDK. Establish the post production review parameters. (See Going Live Check List). Create Project Plan and assign Tasks.
Create and agree on Monitoring Methods :
Who on the team is responsible for tasks, determine how often will you check on the progress and prepare periodic progress reports.
Install and Configure server and client machines :
Install SAP Business One on Server and Client Machines per Install Guide. Request & Install License from Service Marketplace and Create databases for SAP Business One
Configure System setup :
Complete System Initialization in SAP Business One and Definitions in SAP Business One.
Data conversion :
Establish data migration methodology based on import capabilities of each module and export capabilities of current system and prepare import data files and Deliver relevant template to customer, including user fields needed to be imported. Determine a timeline for data conversion based on the technical survey. Receive raw data for manipulation and allow client to test the validity of their data once it has been converted then obtain client sign off for imported data.
Business Process Requirements – Execution Phase :
Create DB Backup after every major step has been completed. Create users, authorizations, user defined fields, reports as defined, alerts as define and queries as defined. Configure various modules.
User Acceptance Testing :
Review the results and decide if ready for production. Simulate all major business processes defined above and simulate major business processes with super user from the client side. Compare the data to established reports and review results and have client sign off.
Pre Go-Live Phase :
Review go-live checklist, create or import Opening Balances and create custom user manuals.
Provide Users with Training :
Basic Navigation – All users must attend. Individual business process training as defined above and training will be provided with navigation/process and manuals. Searching Knowledge Base, Creating CSN messages and SAP support contact information.
Post Go-Live :
It is recommended the system be used for a least 1-2 months prior to making any customizations and once the 2 month period has been completed access all business processes and reporting needs.
A key element of our methodology is constant communication and follow with the client about the progress and also throughout the implementation you will receive Service Reports describing the activity that is taking place on the project as well as identifying and addressing any deviations from the plan as soon as they occur. The result is that you remain informed each step of the way as to the status, progress and budget related to the implementation.
TPiCS
TPiCS is a Flexible Manufacturing Resource Planning solution that most of big manufacturers requires it. If you're having to deal with frequent change requests to manufacturing orders (i.e. sudden changes from customers on order quantities, both increases and decreases). It covers production management and purchase orders. TPiCS allows manufacturers to fulfill orders completely and by the required deadline.